Pilsen and Pilsner Urquell factory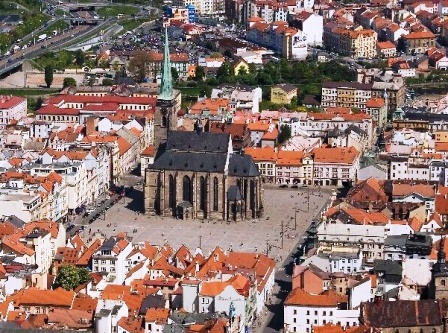 The Beer. There is actually nothing more to say about the city. But the meaning of this single word is wide enough to contain all the emotions this tour will bring you. The city is known worldwide for Pilsner beer, created by Bavarian brewer Josef Groll here in 1842.
The officials of Plzeň founded a city-owned brewery in 1839, Bürger Brauerei (Citizens' Brewery – now Plzeňský Prazdroj), and recruited Bavarian brewer Josef Groll (1813–1887) who produced the first batch of modern Pilsner beer on 5 October 1842. The combination of pale colour from the new malts, Pilsen's remarkably soft water, Saaz noble hops from nearby Žatec (Saaz in German) and Bavarian-style lagering produced a clear, golden beer which was regarded as a sensation. Improving transport meant that this new beer was soon available throughout Central Europe and Pilsner Brauart-style brewing was widely imitated. In 1859, "Pilsner Bier" was registered as a brand name at the Chamber of Commerce and Trade in Plzeň. In 1898, the Pilsner Urquell trade mark was created to put emphasis on it being the original brewery.
The most prominent sights of Plzeň are the Gothic St. Bartholomew's Cathedral, founded in the late 13th century, whose tower, at 102 metres (335 feet), is the highest in the Czech Republic, the Renaissance Town Hall, and the Moorish Revival Great Synagogue, the second largest synagogue in Europe, after the Dohány Street Synagogue in Budapest. There is also a 20 kilometres (12 miles) historic underground tunnel/cellar network, among the longest in Central Europe. Part of this network is open to the public for tours of about 750 metres (2,461 feet) in length and up to a depth of 12 metres (39 feet).
Plzeň has been selected to be a European Capital Of Culture in 2015, along with Mons, Belgium.
Duration: 7 to 8 hours.