Karlstein and Konopisht castles 
The great opportunity for those, who'd like to visit not one, but two castles during one trip and find out more about the history of these beauteous strongholds.
Karlštejn Castle is a large Gothic castle founded 1348 by Charles IV, Holy Roman Emperor-elect and King of Bohemia. The castle served as a place for safekeeping the Imperial Regalia as well as the Bohemian/Czech crown jewels, holy relics, and other royal treasures. Located about 30 km southwest of Prague above the village of the same name, it is one of the most famous and most frequently visited castles in the Czech Republic. Founded in 1348, the construction works were directed by the later Karlštejn burgrave Vitus of Bítov, but there are no records of the builder himself. Some historian speculate that Matthias of Arras may be credited with being the architect, but he had already died by 1352. It is likely that there was not a progressive and cunning architect, but a brilliant civil engineer who dextrously and with a necessary mathematical accuracy solved technically exigent problems that issued from the emperor's ideas and requests. Instead, Holy Roman Emperor Charles IV personally supervised the construction works and interior decoration. A little known fact is that the Emperor hired Palatinate region labour for the remaining work. Construction was finished nearly twenty years later in 1365 when the "heart" of the treasury – the Chapel of the Holy Cross situated in the Great tower – was consecrated.
Konopiště is a four-winged three storey château located about 50 km (30 mi) southeast of Prague, outside the city of Benešov. It has become famous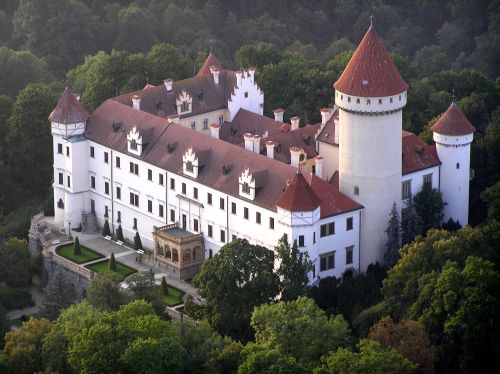 as the last residence of Archduke Franz Ferdinand of Austria, heir of the Austro-Hungarian throne, whose assassination in Sarajevo triggered World War I. The bullet that killed him, fired by Gavrilo Princip, is now an exhibit at the castle's museum.
Konopiště has been open to the public since 1971. Visitors can observe the residential rooms of Franz Ferdinand who was also an enthusiastic hunter, a large collection of antlers, the "Obizzi-Este collection" (the third largest European collection of armoury and medieval weapons from Castello del Catajo, Padua, Italy), a shooting hall with moving targets and a garden with Italian Renaissance statues and greenhouses.
Part of the film The Illusionist, supposed to be the Prince's castle in the movie, was filmed in Konopiště.
Duration: 8 hours.